The world has never been as obviously reliant on technology as it is now, during a pandemic which dictates that we are remote from others, while maintaining high levels of communication. IT Service Management, so often seen as the backroom fixer has leapt to meet the challenge – overnight in so many cases – to enable the transformation of a largely office based working population to a secure and reliable home environment. For those organisations where the front line delivers critical services, IT is having to supply, track and support huge volumes of devices and often inexperienced users. Sunrise customer, North Wales Fire and Rescue Service has shared how ITSM for the fire and rescue service has adapted to swiftly support new requirements, even across non-IT departments. Read on…
North Wales Fire and Rescue Service ICT department supports the front-line and back-office teams that protect the lives and property of the inhabitants of the region. Steve Morris, ICT Technical Manager and Louisa Phillips, ICT Support Officer relay how creating a new service in Sunrise is supporting Logistics during the COVID-19 crisis. Steve takes up the story:
"The ICT team had upgraded to Sunrise v6 in January 2020. The usual friendly interface that my department was so familiar with made the transition easy and everyone found something new that they liked. It went so well that by noon on go-live day, I was so concerned about the lack of people reporting bugs that I had to double check people really were actually using it!"
"Arriving only a month or so later, the COVID-19 lockdown was a challenge for us. My department resorted to home working a few weeks before the nation was told to go home so we had time to settle into our new way of working before the pressure of social distancing gripped the rest of the Service. We were fortunate to have redesigned the self-service portal as part of our Sunrise relaunch in January. By redirecting our users to the portal, we have been able to significantly reduce telephone calls to the service desk whilst managing a surge in requirements for hardware, software and training. This allowed the support team to work more efficiently, prioritise more effectively and spend valued one-to-one time with the users who need coaching and reassurance."
Louisa reflects on how Sunrise really came into its own when the Service hurriedly formed a logistics department. "Its primary aim was to facilitate movement of equipment and supplies across the North Wales territory whilst minimising travel and enforcing social distancing. The logistics manager was managing a large number of requests single handily, using only a spreadsheet and a mobile phone. Within a day, we had built a dedicated service in Sunrise with a dashboard on the self-service portal and visibility through the mobile app." The logistics manager says…
"Having to create a Logistics Cell from scratch and figure out what was required under COVID-19 conditions was a daunting task, seemingly easily tracked with a simple spreadsheet. However, this became time consuming in having to deal with the telephone calls and e-mails from people requesting logistics support, with time also being spent contacting people back to confirm requirements."
"What Sunrise did was to provide a bespoke solution to meet the very specific needs of the Logistics Cell. Work between ICT and Logistics ensured the system remained flexible enough for free text explanations of requirements whilst ensuring sufficient and relevant information, such as pick up and drop off points, telephone numbers and e-mails were included. Utilising Sunrise has enabled the Logistics Cell to monitor and task requests with ease and in a timely manner. As the requirement for logistic support grows, so does the bespoke Logistics Sunrise to enable reports, filters and scrutiny of workload to be undertaken."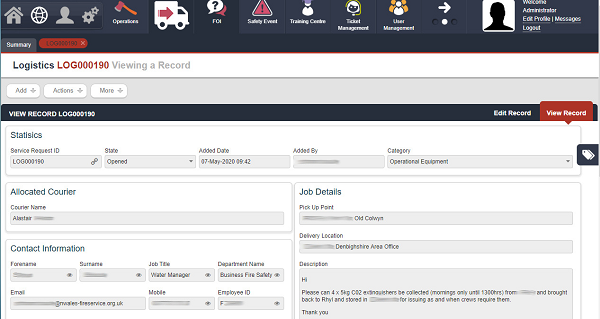 Says Steve, "Now that Sunrise has shown it's not just an IT tool, I'm looking forward to seeing how it can help other departments too and there are already people knocking on our door wanting to know more!"
Great work, Steve, Louisa and life savers at North Wales Fire And Rescue Service! We're delighted that IT Service Management can help in such diverse ways.