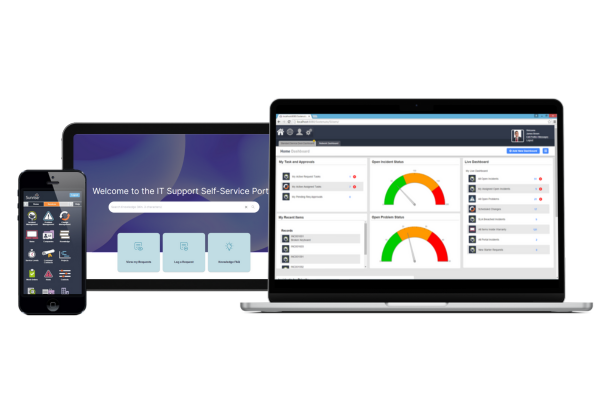 Service Desk for Service Providers
Empowering MSP Service Desk teams to provide service excellence
Book A Demo
Enabling Great Customer Service from the First Call

The moment your customer logs a support call with your organisation it is vital that great customer service is the priority, if their experience is not a good one, the impact this can have on other areas of your business is significant.
We understand how important the Service Desk is on all areas of the business, and so we have created a range of ITIL-based features that facilitate a high performing Service Desk environment for MSPs, capable of providing your customers with the support they deserve when they need it most.
From desktops, laptops, tablets and smartphones, Sunrise Service Management allows your support analysts to access the Service Desk on their preferred device, any time of the day and anywhere they choose.
Incident Management
Speed up Incident classification, increase your first call resolution or escalate complex issues to resolver teams with the help of Sunrise Incident Management.
1. What Does It Do?

Classify Incidents quickly and gain a full audited history of all customer support interactions

Increase first call resolution with detailed performance tracking of Service Level Agreement

Monitor supplier performance for the role they play in resolving escalated issues

Associate Incidents to Known Errors, Problems and Changes

Raise Incidents via multiple channels of communications including phone, email, Self-Service or even an external application using our REST API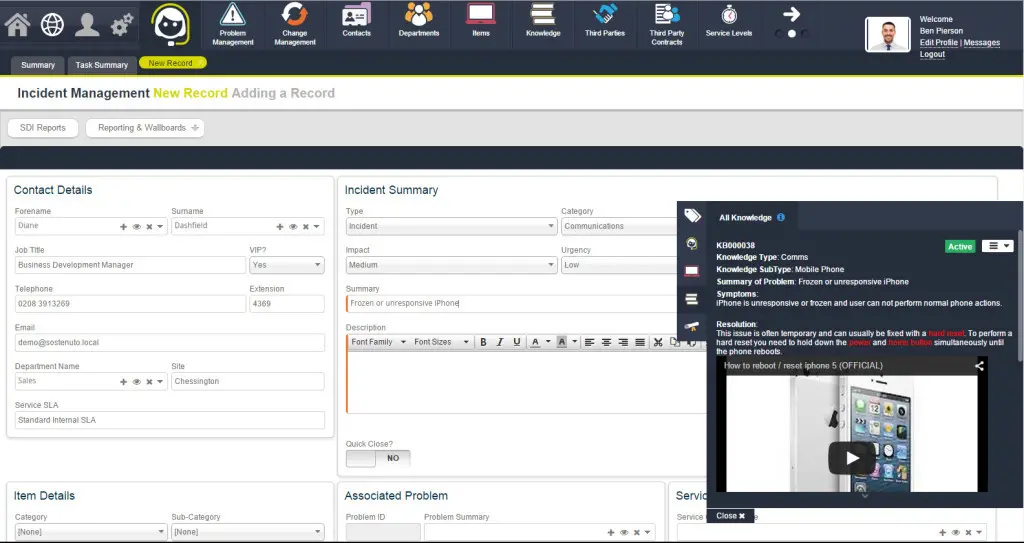 2. Key User Benefits

A more efficient Service Desk with faster resolution times and happier end users

Lower overall costs of service delivery

Increased visibility across all Service Desk activities across Service Management disciplines

A more consistent approach to service delivery
3. More Info

Sunrise Service Management provides a flexible way to log, track and resolve customer issues and queries – making Incident prioritisation a breeze and lost issues a thing of the past. Sunrise Service Management will even look after your support inboxes so you don't have to. One incoming email may create an Incident, while another can be used to update or even close it.
Incidents can be easily classified using issue type templates, and assigned, updated and escalated as necessary until a resolution is found and Incident closure achieved. You can easily track the time and cost incurred in providing support and even specify the number of Service Credits consumed, should this be appropriate for the customer's contract.
With Sunrise Service Management for MSPs, you'll get a flexible way of logging, tracking and resolving your Incidents. Prioritisation of Incidents becomes a breeze, with automatic service level tracking, escalations, and proactive notifications to support analysts via internal messages, texts, or customisable e-mails.
With Sunrise Service Management you'll see an increase in first call resolution, clear visibility of escalated issues and improved customer satisfaction scores.
Service Request Fulfilment
Fulfil your service requests with our integrated Service Catalogue and request fulfilment processes.
1. What Does It Do?

Deliver a catalogue of standardised products and services for greater control

Define multiple levels of service such as Gold, Silver, and Bronze

Track the lead and execution times for new products and services and the tasks involved in delivering them

Keep a handle on costs and report on potential chargebacks

Publish available products and services via the Self-Service portal for end-users to make requests, and track existing requests
2. Key User Benefits

Improved customer satisfaction as expectations can be appropriately managed

A more consistent delivery of products and services

Greater control and visibility of the end-to-end services your organisation delivers

Incident Management resolution is faster and more cost-effective with the support of a Service Catalogue
3. More Info

It's not all about keeping the lights on. There's a constant and growing demand for new products and services, with IT departments needing to constantly innovate in order to stay ahead. The need to manage this demand is critical to understanding and minimizing costs, while at the same time providing the services your business needs to grow, at the time it needs them most.
Sunrise IT Service Management allows you to create and sustain your own published Service Catalogue from a definitive, and approved, library of products and services. From this Service Catalog your customers can order pre-defined products and services from your IT Service Desk, and instinctively know what they're getting, when they're getting it, and how much it might cost.
All requests can be broken down into the specific tasks that are required to complete them. From initial authorisation to implementation, task templates can be built that automate the creation of tasks for common requests.
With Sunrise IT Service Management you can empower your customers to manage the services they need, at the time they need them, by making the Service Catalogue available via a Self-Service portal. New requests can be made, and existing requests tracked through the approval processes all the way to delivery.
Problem Management
Sunrise MSP Service Management has all the tools you need to manage the process of digging deep for the underlying causes of customer issues.
1. What Does It Do?

Automatically search the Problem database for issues while investigating a customer's issue

Track the underlying root cause for all Problems

Reduce the impact of Problems by publishing known errors and workarounds within the knowledge base

Raise Change Requests to remedy underlying structural Problems

Keep an eye on the financial impacts of problems and manage resource utilisation more effectively
2. Key User Benefits

A more stable IT environment

Increased customer satisfaction
3. More Info

Effective Problem management sits at the heart of rooting out those underlying recurring issues that cause your customers to call. Left unchecked undiagnosed Problems have a significant and ongoing impact on your resources, availability of critical systems and services, and not to mention the reputation of IT.
Sunrise IT Service Management allows you to create new Problems from an Incident, or associate Incidents to existing Problems. By tracking details such as affected systems and information about potential workarounds, you can put important information in the hands of those who need it. You can even publish the problem details via self-service or via an announcement.
Fully integrated with Change Management processes, Problems can have Change Requests created for approval, or be associated to an existing Change record, providing full visibility from customer issue to the actual fix. Once the underlying issue has been resolved, and you close out the Problem, all associated Incidents are also marked as resolved, and populated with the fix details. Neat, tidy, smart working.
Improving the way in which you track and diagnose your Problems will increase visibility and transparency, improve knowledge sharing, and ensure more timely resolutions through effective Change Management. You can even reduce the likelihood of future issues by scheduling periodic checks on key infrastructure and services. Whatever your IT support needs, Sunrise has a solution for you.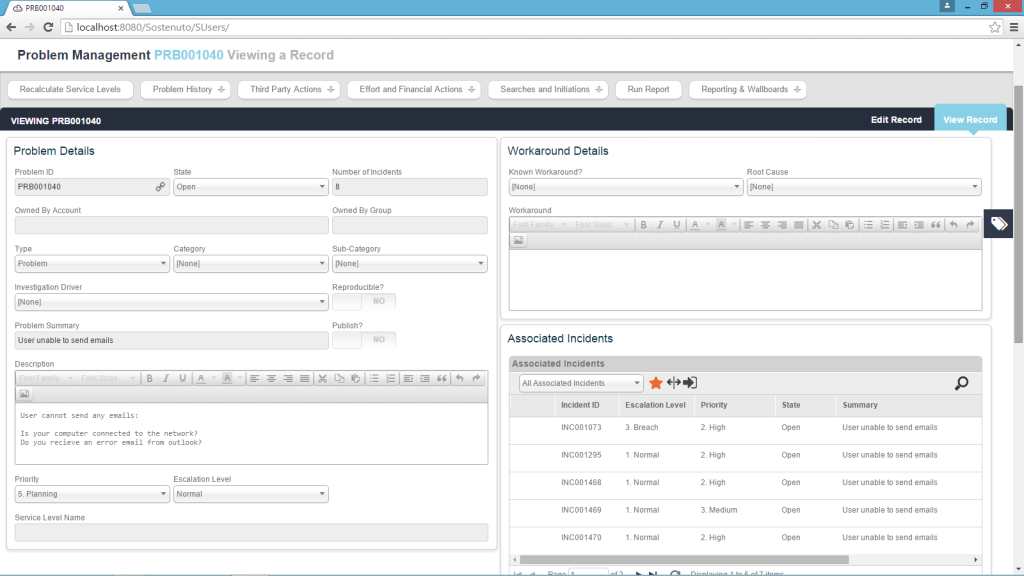 Knowledge Management
Compile and publish information such as symptoms, cause and resolution details across your Service Desk. Better resolve customer incidents, and track workarounds to problems and known errors.
1. What Does It Do?

Automatically search approved knowledge articles relating to a caller's issue and mark specific articles as the solution

Provide feedback on quality knowledge by providing ratings

Flag knowledge as out-dated or incorrect, or submit for review

Document symptoms, cause and resolution details or link to external resources

Reward knowledge authors based on quality of their submissions and real customer feedback, using gamification techniques
2. Key User Benefits

A more consistent level of knowledge across support

Increased customer satisfaction

More knowledgeable and more motivated staff
3. More Info

Publishing and sharing knowledge across your Service Desk ensures your customers receive a faster, more consistent response, time after time. It even speeds the ramp-up time for new support staff. But by using Knowledge Management and publishing knowledge articles to your Self-Service customers, they can help themselves without ever having to contact support. Tap into the knowledge of your team and share information such as symptoms, cause and resolution details in order to better resolve Incidents, and track workarounds to Problems and Known Errors.
Once you've captured your knowledge don't keep it to yourself. Organize your valuable information with simple category classifications and keyword tags, to ensure it can be easily found in the future. Dynamic searching will ensure that this published knowledge is presented to your support agents quickly and easily while they're logging the details of an incident.
Having all your knowledge in one place will speed issue resolution, enable new staff to acquire knowledge rapidly, and can have a dramatic effect on the number of reported issues should/when you put this information in the hands of your end users. Watch the video on Intelligent Searching of knowledge management to learn more about how Sunrise IT Service Management can help you harness the information within your Service Desk.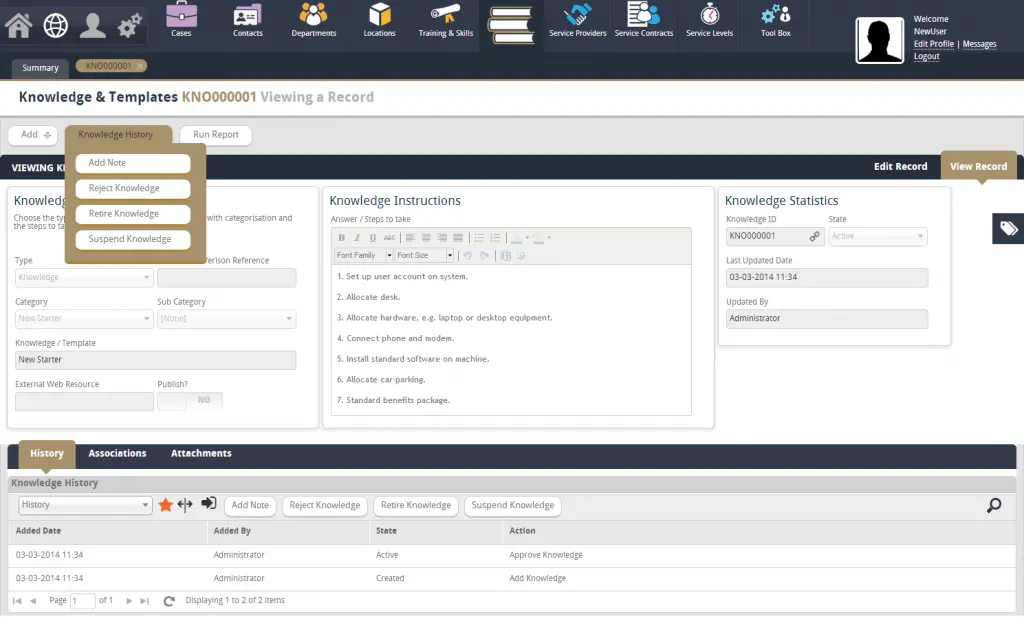 Service Level Agreements
Track Service Levels for customers according to their contract, and set base targets against priorities for the hours you work. Keep on top with alerts to your inbox when your commitments are in danger of being breached.
1. What Does It Do?

Set Service Level Agreement targets based on defined priorities

Automate incident escalations and automatically send alerts when your SLAs are in danger of being
breached

Create a hierarchy of SLAs for customers, contracts, supported equipment and incident types

Report and analyse actual performance achievement against Service Level targets

Reporting and analysis of performance achievement against Service Level targets

Generate reminders of impending SLA target failures and automate incident escalations
2. Key User Benefits

Reduced number of breached SLAs

Increased customer satisfaction

Complete control over performance commitments
3. More Info

Keeping control of your Service Level Agreements (SLAs) is a critical element of successfully delivering against your Key Performance Indicators (KPIs) and ensuring continued customer satisfaction. Sunrise Service Management for MSPs automatically calculates your response and resolution targets based on the impact, urgency and overall priority that has been set. Service level tracking also includes those external parties, such as suppliers, that are involved in the resolution of your Incidents and Problems. Your Service Level Agreements even take into account the hours you support and the days you have off, such as weekends and public holidays, or you can just "stop the clock" manually by putting Incidents on hold, while you're waiting for a response from the customer.
Sunrise MSP details your performance statistics per day, week, month, across the years, or broken down by groups or individual support agents. With your customers demanding a high quality service you'll have all the statistics you need to back you up.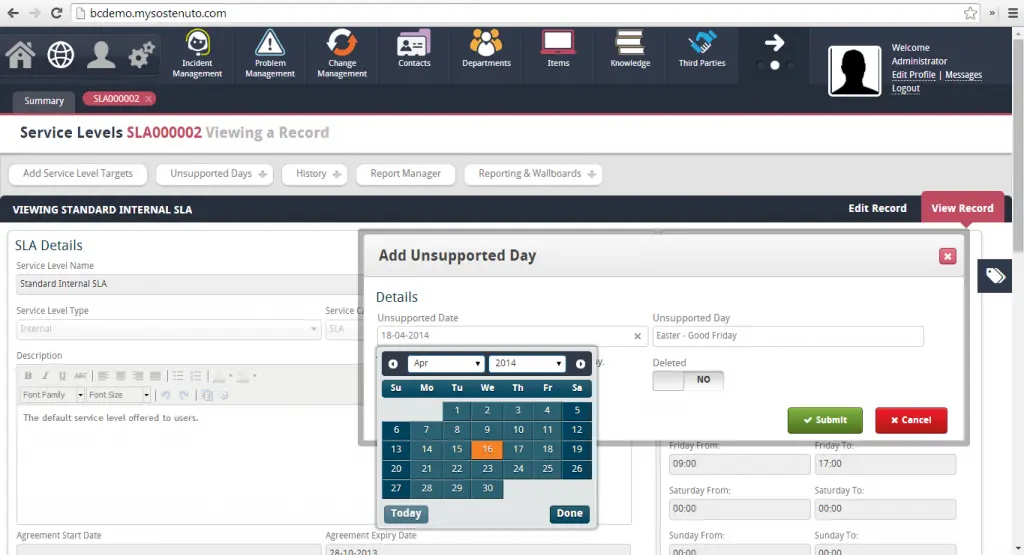 Self-Service
Let your users interact with your Service Desk using a simple browser-based, Self-Service portal. Empower users to raise new Incidents or Requests, search for solutions, or monitor existing known errors, or service outages.
1. What Does It Do?

Your agents spend less time taking calls, increasing their productivity

Customers can access and manage information from wherever they are, using their favourite devices

End Users can check the status of existing issues, provide updates and submit feedback

Proactively show the status of services your customers subscribe to, and any issues currently being experienced

Publish simple solutions to common problems so that your customers can help themselves

Retain total control over who has access to the important information within your Service Desk
2. Key User Benefits

Improved customer satisfaction
3. More Info

Offering your customers a first class experience is really a must if you want to encourage them to adopt Self-Service instead of picking up the phone. Your agents may not be available 24/7 and many customers would rather try to fix issues themselves in the first instance. With a simple to use interface, customers can raise their own support calls, search for solutions within an approved knowledge base, and keep their own information up-to-date. Your end users can even use their own domain username and passwords to login. No need for yet another set of user credentials to remember, or forget.
Self-Service is a proven method of dramatically reducing the volume of Incidents being reported to your Service Desk, freeing your agents up to be more proactive on the issues that really matter.
Keeping everyone up to date with important information is easy with Sunrise ITSM. Whether it's a simple announcement about service desk opening times, changes to people and processes, or information about service availability, Sunrise ITSM lets you make announcements to individuals, groups, or the entire company via Self-Service.
Offer your IT users a first-class experience with Sunrise IT Service Management, and let them manage their own support issues by encouraging the adoption of Self-Service over picking up the phone.
Announcements
Ensure everyone is up-to-date with the latest Service Desk activities and information by publishing announcements to staff and supported end-users.
1. What Does It Do?

Publish announcements, questions, warnings, or other types of announcements

Target announcements where they're needed to specific individuals or groups, or even just send it to everyone

Attach supporting documentation to provide additional information if required

Set future publish dates that automatically make announcements available for others to see

Automatically expire old announcements when they're no longer relevant
2. Key User Benefits

Reduce calls to the Service Desk and keeping everyone informed by proactively communicating important Service Desk announcements via Self-Service

Reduce miscommunication by ensuring everyone is on the same page at the same time
3. More Info

There's always something going happening on the Service Desk, and all too often you need to let others know of something important, whether it's a major Incident, a known fault or service outage, or just an update on on-going project work. Keeping everyone informed, especially your customers, is no easy feat when you're already a busy department.
Keeping everyone up-to-date with important information is easy with Sunrise Service Management. Whether it's a simple announcement about Service Desk opening times, changes to people and processes, or information about service availability, Sunrise Service Management lets you make announcements to individuals, groups, or simply everyone, via Self-Service.
All announcements can be set to be published automatically allowing you the ability to define future announcements with ease. They can even be set to expire when the date has passed and the information is no longer relevant.
Whatever you have to say, however, you want to say it, you can be sure that Sunrise Service Management enables you to target your Service Desk's announcements to the right people and at the right time.
Gamification
Engage, motivate and reward your Service Desk staff with gamification. Earn badges for great customer service, compete in challenges against peers and level-up to show everyone your support prowess
1. What Does It Do?

Win badges to show off your agents' support prowess

Gain experience as support agents go about their day-to-day role for positive contributions to support goals

Level up through customisable tiers of experience

Create challenges where Service Desk agents compete to be top of the leaderboard

Build long-term Quests for the more adventurous player
2. Key User Benefits

Improve levels of sharing knowledge

Increased customer satisfaction
3. More Info

All businesses strive to do more with less, and staff productivity remains crucial to great service to your employees. But keeping your Service Desk staff fully motivated while continually dealing with employee issues can be near impossible. With Sunrise IT Service Management you can apply gamification techniques that reward and challenge your agents to provide great support at all times. You can drive and motivate your support staff in a more engaging manner by providing rewards for exceptional effort and challenges for agents to compete among themselves.
Challenge, motivate and reward Motivating staff and making them feel they are part of a larger objective drives up standards, improves collaboration and helps share knowledge.
Many workers start their careers in a Service Desk, Customer Support Desk or Call Centre. This makes these ideal places to harness modern concepts such as gamification. Improve your Service Desk by designing agent rewards and begin recognising effort where it's due.


"We've been using Sunrise for nearly three years, without any failures, giving us reassurance and allowing us to focus on supporting the work of the council, its staff and councillors. We particularly like the ease of use, and the intuitive interface that we've been able to customise to meet our needs in every area."

"Sunrise has been transformational in how we are now working and the data that we are able to capture and use."

"We saw that Sunrise's employees are really enthusiastic about the company and hugely experienced. That made our decision very straightforward - Sunrise is just the right partner for us. Adopting the SaaS model means we don't have to worry about release cycles or server management either, as it's all managed by Sunrise."

"As with the entire NHS, we have a focus on efficiency, and Sunrise enables us to automate many of our processes, giving staff time to handle more complex, more challenging jobs where they can really add value."

"We have the ability to customise the platform for different areas of the university and have removed the need for a multitude of platforms from multiple providers."

"Flexibility, scalability, customisation and speed of implementation were paramount to us. Sunrise ITSM enabled us to improve and alter the way in which we logged and managed queries through to resolution, with a clean and simple user interface that staff could quickly and easily get to grips with."

"The relationship we have with Sunrise feels more like a partnership than a client / supplier dynamic. They have always responded to our feedback 100%, and gone out of their way to support us in our ISO/IEC 20000 undertaking."

"Thanks to Sunrise and ITIL we're confident that we can deliver the service our customers require and better understand and respond to their changing needs, in a more digitally-driven world. "

"For us Sunrise were the clear choice. The system has a broad range of features and functions and it was the most cost effective answer to our needs."


Many of our customers have taken advantage of the services available to control and manage their IT Operations, one of those customers is INPS who uses Sunrise's Configuration Management functionality to track the numerous services that it supports.
Thanks to Sunrise ITSM, INPS know exactly which customers are connected to the different systems they have in place and how they are using the various services, enabling them to target any changes swiftly and accurately.

View Case Study