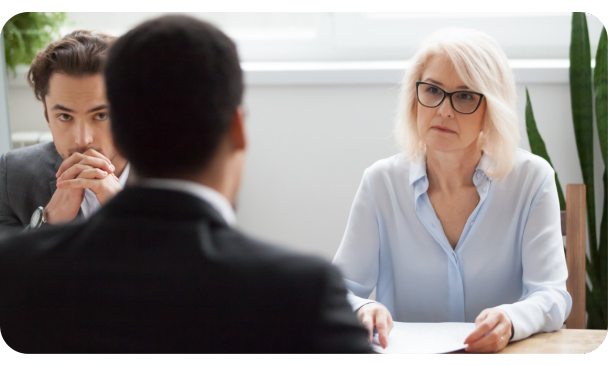 Employee Management
Manage and track interactions with the workforce throughout the employment lifecycle
Book a demo
Empower HR Teams to Improve Employee Relations

Ensuring that the HR team have full visibility of all aspects of an employee's history, from the training received, to past employers and any queries and requests they have logged with HR, is a way that HR teams can develop positive relationships with the workforce. A full understanding of the history means that the matter at hand can be effectively managed and service delivery optimised.
A strong audit trail also helps should the worst happen and an ex-employee take the organisation to tribunal. With a full history of all HR engagements being readily accessible to appropriate stakeholders, it is easy to track exactly what has happened between HR and the ex-employee throughout their time at the company.
Candidate and Employee Management
Maintain a complete view of employees from initial interview and active employment to retirement or other exit.
What Does It Do?

Consolidate employee details into a central location with secure access

Keep track of the history of each employee

Generate letters for groups and individuals
Key User Benefits

Improved employee relationships
More Info

During their employment with you, individuals at your organisation have the potential to create a lot of activities, from their initial interviews and reviews to training and exit interviews. Without a central location to store all of this history, it is possible that if and when this information is needed, you will struggle to find everything you need – or spend a lot of time searching for it.
Sunrise HRCM takes this struggle away by providing one easy to access location that stores each employee's history and activity. So whether you are looking for details on employment history, warnings for poor conduct or past absences, you will find it in a click of a button within Sunrise HRCM.
And should you need to, Sunrise HRCM allows you to generate letters to specific individuals, or even groups, from within the software using customisable templates and then print or create a PDF to send via email.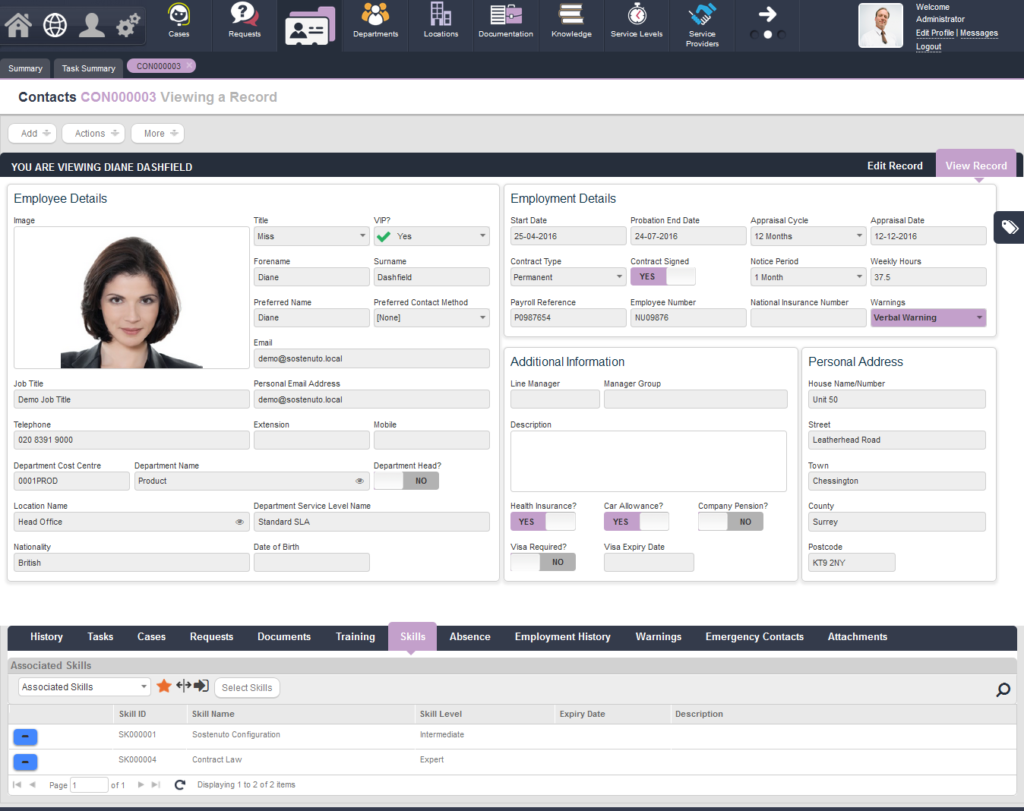 Training and Skills
Streamline training requests and the approval process, and see a complete picture of all delivered training and the skills acquired by both your HR team and employees
What Does It Do?

Manage training dates, course outlines, costs and suppliers

Delegates can request attendance via the Self-Service portal

Automatically allocate acquired skills based on successful completion of the training course

Keep a historical record of all training attendees, results and skills, and ensure that all staff have the necessary competence to fulfil their roles
Key User Benefits

Easily identify gaps in training requirements

Manage training in one easy location
More Info

Keeping track of an employee's training and the skills they have developed over their employment lifespan is critical for identifying any gaps in their ability to perform in their roles and for developing a career progression programme to ensure continued competency.
With Sunrise HRCM, you are able to track both the training that employees have attended and the skills they have earned along the way. As well as detailing any courses that employees have attended, Sunrise HRCM also allows you to add courses which employees can then book onto via the Sunrise Self-Service portal. It is possible to include a variety of course information including, course outline, duration, date, cost and maximum number of attendees and whether it is an internally or externally delivered course.
Sunrise HRCM provides a central location to record and track employee training and skills earned, ensuring that staff feel invested in and valued.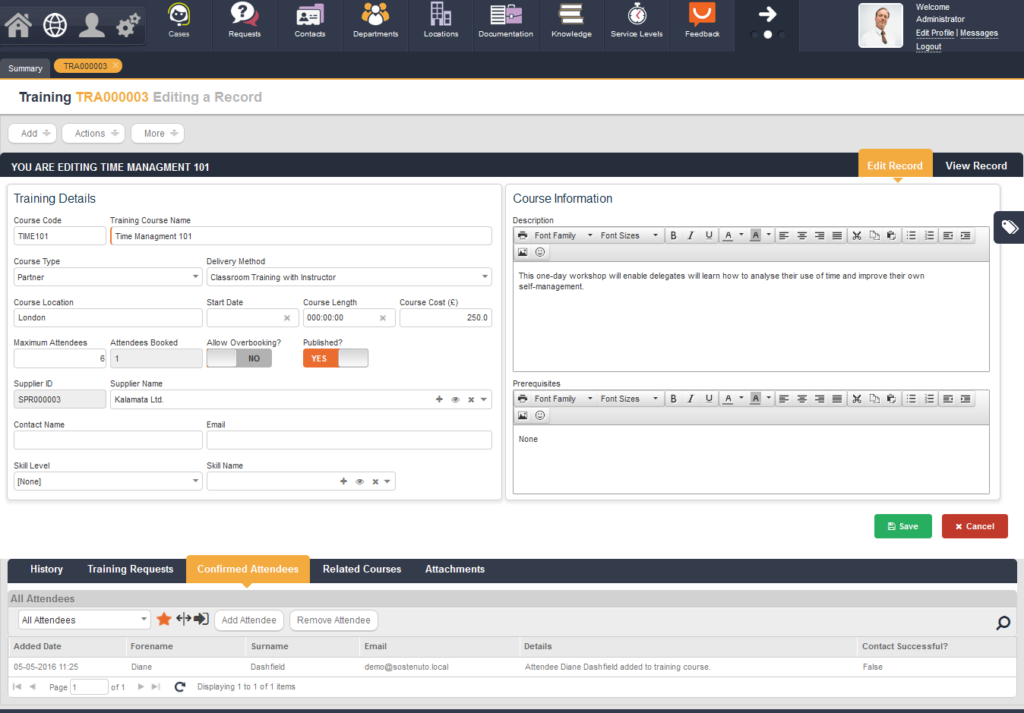 HRCM Employee Feedback
Whether praise or complaint, there's always something positive to learn from employee feedback.
What Does It Do?

Track the priority of feedback across all employees whether positive or negative

Identify areas of concerns in order to proactive action

Break down actions as tasks and assign to respective owners to implement

Keep employees up-to-date at all times via the Self-Service portal or email
Key User Benefits

Increased visibility of all employee feedback

Improved collaboration and communication

Reduced calls to the HR department
More Info

The term 'customer feedback' is used frequently, but it is just as important to listen to what your employees have to say. Whether it is a praise or a complaint, feedback enables HR teams to get a sense for how employees are feeling and whether any action needs to be taken. Without a formal process or system in place, any feedback received by the HR team can easily be lost or forgotten about – leaving employees feeling ignored and demotivated.
Sunrise HRCM helps to combat this by providing HR teams with a dedicated process to manage all employee feedback. Tasks can be created and assigned to relevant individuals allowing for investigation and remediation activities. And you can be confident that everything that happens throughout the process is logged, detailing a full audited history from beginning to end.
Via the Sunrise Self-Service portal, employees are also able to raise new feedback and view updates to existing feedback, keeping them (and anyone else who is interested) informed every step of the way.
There is a lot to be learnt from feedback. Whether praise or complaint, Sunrise HRCM helps to make this process easy to manage and monitor ensuring that employees feel engaged and valued.
Idea Management
Improve your team's processes and procedures by harnessing the creativity of those around you.
What Does It Do?

Implement peer review and approval cycles for submitted ideas

Consistently score approved ideas relating to their impact and business benefit

Allow employees to vote for their favourite ideas

Focus energies on improvements with the greatest payback

Implement ideas and track each individual task
Key User Benefits

Access to the creative potential of your staff and customers

Increased innovation based on real experiences

Improved processes, products and services
More Info

New ideas can be inspired by anything and thought of by absolutely anyone, but what happens to these suggestions if there is nowhere for them to go?
With Sunrise HRCM, you have the ability to track and encourage innovative thoughts from employees in your organisation. Whether you are looking for ideas to improve your team's processes or general ideas that will benefit the company, Sunrise HRCM will allow you to track and manage these ideas. Each idea submitted can be approved by management and be peer reviewed. Approved ideas can be scored according to their business impact and potential benefits to the company. And to really ensure that the most innovative and popular suggestions get supported, you can introduce a voting system so that staff can vote for their favourite ideas.
Should you wish to implement any of the more popular ideas, tasks can be created within Sunrise HRCM and then allocated to individuals to action when needed, and with the Sunrise Self-Service portal, you can easily keep staff updated on the progress of all submitted ideas.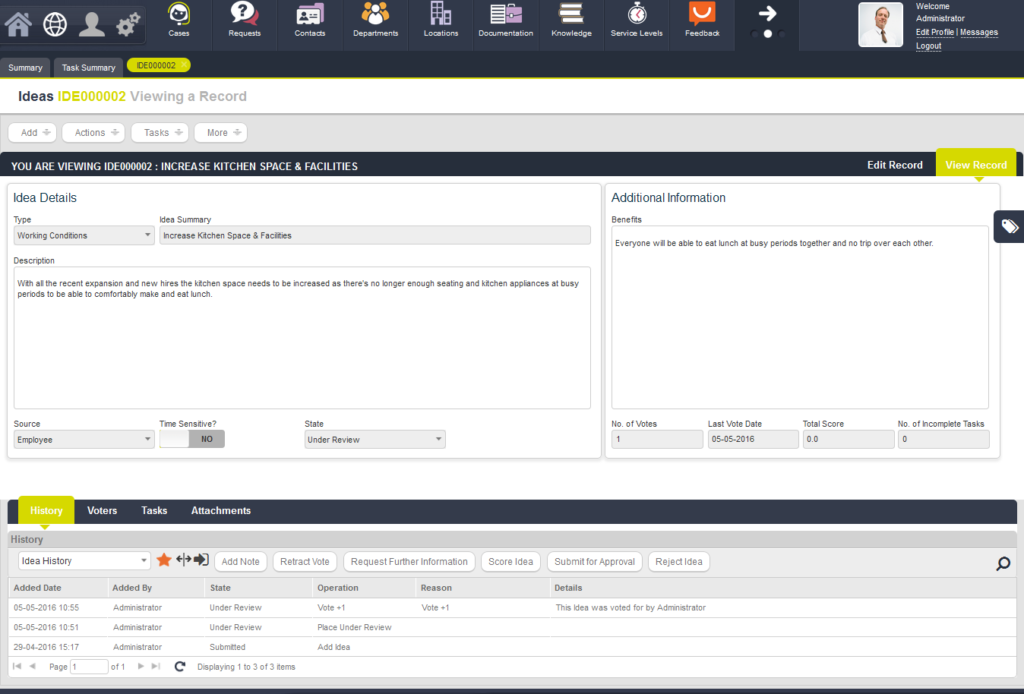 "We've been using Sunrise for nearly three years, without any failures, giving us reassurance and allowing us to focus on supporting the work of the council, its staff and councillors. We particularly like the ease of use, and the intuitive interface that we've been able to customise to meet our needs in every area."

"Sunrise has been transformational in how we are now working and the data that we are able to capture and use."

"We saw that Sunrise's employees are really enthusiastic about the company and hugely experienced. That made our decision very straightforward - Sunrise is just the right partner for us. Adopting the SaaS model means we don't have to worry about release cycles or server management either, as it's all managed by Sunrise."

"As with the entire NHS, we have a focus on efficiency, and Sunrise enables us to automate many of our processes, giving staff time to handle more complex, more challenging jobs where they can really add value."

"We have the ability to customise the platform for different areas of the university and have removed the need for a multitude of platforms from multiple providers."

"Flexibility, scalability, customisation and speed of implementation were paramount to us. Sunrise ITSM enabled us to improve and alter the way in which we logged and managed queries through to resolution, with a clean and simple user interface that staff could quickly and easily get to grips with."

"The relationship we have with Sunrise feels more like a partnership than a client / supplier dynamic. They have always responded to our feedback 100%, and gone out of their way to support us in our ISO/IEC 20000 undertaking."

"Thanks to Sunrise and ITIL we're confident that we can deliver the service our customers require and better understand and respond to their changing needs, in a more digitally-driven world. "

"For us Sunrise were the clear choice. The system has a broad range of features and functions and it was the most cost effective answer to our needs."