Modern organisations are utterly dependent on their IT infrastructure. If core IT services or systems are unavailable for just a few minutes, operations can grind to halt.
To avoid this, most organisations implement rigorous IT Service Management (ITSM) systems and processes to ensure their IT operations remain online and fully functional.
How do they keep track of all these systems and processes?
With the help of an ITSM tool. But, what are ITSM tools, exactly?
In this article, we'll cover everything you need to know.
What are ITSM Tools?
ITSM tools are software solutions that help organisations manage the provision of IT services, either to internal users or — for IT service providers — external customers. To define ITSM tools,
Gartner states: "ITSM tools facilitate the tasks and workflows associated with the management and delivery of quality IT services."

Since modern IT services are often tremendously complex, modern ITSM tools provide over 600 unique functionality points to support them.
What is ITSM?
ITSM is a set of processes and disciplines that help organisations manage their core IT services, tasks, and infrastructure. Most organisations base their ITSM approach on the ITIL framework, which we'll cover in more detail shortly.
So, what does this actually mean?
Modern organisations are totally reliant on their IT infrastructure and services. Without them, most employees would be unable to work, and operations would grind to a halt. To avoid this, organisations use a structured and documented approach to ensure IT operations and services remain efficient and operational.
This is what we call ITSM — the structured approach an organisation uses to design, plan, manage, and operate IT systems and services, including:
IT hardware (e.g., servers, telephones, and printers)
Endpoint hardware (e.g., PCs, laptops, and mobile devices)
Software services (e.g., email and VoIP)
IT services (e.g., the IT helpdesk and IT project management)
Software systems (e.g., office suites and ERP solutions)
Why Do I Need ITSM?
Very small organisations can often get by with ad hoc IT services. For example, an organisation based in a single office may only need one 'IT person,' who completes work and solves issues as they arise. However, as organisations grow this approach quickly becomes a liability.
It's often very difficult for small IT teams to keep track of everything that needs to be done on an ad hoc basis. Important tasks and responsibilities start to fall through the cracks, and the efficient operation of the entire organisation is put at risk. At this point, organisations typically begin their ITSM journey by documenting processes and implementing simple tools to help them manage the delivery of IT hardware, software, and services.
Formalising ITSM
Once an organisation reaches a certain size, it becomes impossible to support users and manage IT services without a formal structure and processes. This is when most organisations begin formalising their service management approach by adopting a recognised framework — usually ITIL — and implementing a more powerful tool to handle ITSM.
Examples of IT service delivery benefits:
Ensuring the consistency of IT service delivery.
Supporting business operations and efficiency.
Protecting business continuity.
Reducing inefficiencies.
The precise time when formal ITSM becomes essential varies depending on the type of organisation. For instance, even very small managed service providers typically need formal ITSM processes and systems to support their customers effectively and efficiently. On the other hand, an organisation with a purely internal-facing IT service — for example, a law firm — might employ 150+ people and still be able to 'get by' with a largely ad hoc IT service.
What is ITSM and ITIL?
The Information Technology Infrastructure Library (ITIL) is a framework organisations use to design their ITSM approach. Or, more accurately, ITIL is THE ITSM framework — it's the only one you need to worry about, and has been the industry standard since it was first released in the 1980s.
Originally developed by the UK Government's Central Computer and Telecommunications Agency (CCTA) — which was later merged into the Office of Government Commerce (OGC), and then merged again into the Cabinet Office — ITIL has had several major updates over the years. The most recent version, ITIL 4, was released in 2019. Since 2013, ITIL has been owned and maintained by AXELOS, a joint venture between Capita, PLC, and the Cabinet Office.
There is an important distinction between ITSM vs. ITIL: ITIL is the framework, while ITSM describes the systems and processes an organisation creates based on that framework.
ITIL includes an exhaustive list of processes, procedures, tasks, and checklists that organisations can apply to help them manage their IT service. Most organisations choose to implement only the specific aspects of ITIL that are relevant and beneficial to their operations — trying to implement the entire framework would be prohibitively expensive and offer few additional benefits.
What are the ITSM Processes?
ITIL 4 includes 34 management 'practices' divided into three categories:
General management practices
Service management practices
Technical management practices
In previous versions of the ITIL framework, practices were arranged into the five-stage IT service lifecycle: Service Strategy, Service Design, Service Transition, Service Operation, and Continual Service Improvement.
While the service lifecycle has been dropped from ITIL 4, the practices it lays out still clearly correspond to the lifecycle, and many organisations still actively use it to inform their ITSM systems and processes.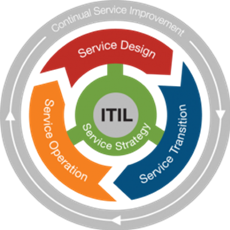 Source: AXELOS, ITIL 3 (2011)
Why Use ITSM Tools?
Five main reasons why organisations implement ITSM tools:
1) To provide structure
For a busy IT service, structure and consistency is everything. They simply can't allow each helpdesk agent, project officer, and service manager to come up with their own systems and preferred ways of working.
Doing so would not only be frustrating for customers, who wouldn't know what level of service to expect, it would also lead to huge inefficiencies. An ITSM tool enables IT leaders to standardise processes and service delivery and keep track of everything their IT service does. It also makes it easy to set Service Level Agreements (SLAs) and identify cases when they aren't met.
Put simply, a well-implemented ITSM tool enables an IT service to enforce its ITSM systems and processes, ensuring they are adhered to. As a result:
The organisation can ensure its IT systems and services are consistent and in line with its needs.
Customers — both internal and external — know exactly what level of service they will receive.
2) Record management and evidence
An effective IT service must be able to identify and learn from its mistakes. This is only possible if all IT activities are recorded in a consistent, reliable, and available manner. For example, suppose an IT incident 'falls through the net' and goes unresolved for several days.
This could cause significant disruption to one or more end users — even preventing them from completing their duties. In such a case, the IT service must be able to analyse its records to identify how and why the incident was missed. This is not just to ensure the incident gets resolved, but also to prevent the same series of events from happening again.
This has obvious applications for managed service providers, who must be able to evidence performance against a contractually agreed set of SLAs. However, it is also extremely important for internally-facing IT services, which must maintain a level of service that supports the organisation to achieve its objectives.
3) Automation
A large proportion of the work completed by a typical IT service is repetitive. For example, when new employees join the organisation, most of the IT activities required are the same every time. For instance:
Setting up a new user account
Setting up a new email account
Ordering and delivering a mobile phone
Ordering and delivering a laptop
Prompting the user to complete mandatory training
Depending on the size and function of the organisation, there could easily be a dozen or more activities for the IT service to complete for every new employee. For repetitive processes like this, automation can be a hugely valuable time (and cost) saver.
Imagine that the manual tasks associated with a new starter take 45 minutes to complete. Now, imagine that an organisation has 100 new starters every year. That's a total of 75 hours of work the IT service has to complete each year, which equates to more than two working weeks for a full-time employee.
By automating these processes — which a powerful ITSM tool can easily do — an IT service can replace all those manual hours with a few simple clicks.
And new starters are just one area where ITSM automation can play a significant role. Others include:
Creating, updating, and closing tickets.
Recording IT user activity.
Process documentation.
Sending email notifications and prompts.
Carefully-implemented automation can save busy IT services thousands of hours each year while avoiding the very real risk of human errors.
4) Performance
History abounds with powerful quotes about the futility of standing still. Simply, if you stop trying to move forwards, you don't stay static — you fall backwards.
Confucius said: "It does not matter how slowly you go so long as you do not stop."
Abraham Lincoln said: "I walk slowly, but I never walk backwards."
Dwight D. Eisenhower put it more plainly: "Unless we progress, we regress."
This is why Continual Service Improvement has been a major component of ITIL for so many years. If an IT service doesn't dedicate itself to continuous improvement, it will inevitably stagnate and become less effective over time.
By keeping track of all IT activities and providing readily-accessible reporting, ITSM tools make it easy to identify areas for improvement. An IT service can use such a tool to ensure SLAs are hit consistently and implement new systems and controls when they aren't.
Without this information, it is extremely difficult to identify where improvements are needed, making continual service improvement all but impossible.
5) ROI and cost savings
Nearly every organisation that implements an ITSM tool hopes to realise a financial ROI through direct cost savings. An MSP may also plan to realise ROI by expanding to support more customers, or by improving the efficiency (and consequently profitability) of its operations with existing customers.
In general, ITSM ROI comes from four main areas:
Efficiency gains, e.g., from improving or automating manual processes.
Reduced workload, e.g., by implementing user self-service options.
Governance improvements, e.g., reminders to avoid overpaying or retaining unnecessary contracts.
Continuous improvement, e.g., reducing the average time taken to resolve incidents.
To accurately determine ROI, you must first know what your current costs are. This is often difficult if you don't already have an ITSM tool, and is something you'll have to overcome when creating a business case for implementing your preferred tool. If you're struggling to identify your current costs, ask your ITSM vendor to provide case studies and documentation to support your business case.
What is an ITSM Ticketing Tool?
Ticketing is an essential component of any ITSM tool that almost all organisations require.
ITSM ticketing tools keep track of all interactions between a helpdesk and its internal or external customers. A 'ticket' is simply a digital record of an IT incident or event that includes relevant information about what happened, who raised the issue, and what has been done to resolve it. This ensures no incidents are 'lost' or forgotten, and helps to maintain a consistent standard of service for all helpdesk customers.
Most IT services have contractual SLAs that state how quickly new incidents should be closed. Ticketing systems keep track of these metrics by automatically recording the time and date every time a ticket is updated, and providing readily-accessible reporting.
While essential, ticketing is just one small component of ITSM tools, meaning that while all ITSM tools include a ticketing module, a pure-play ticketing tool is not sufficient to ensure efficient and effective IT operations.
Is Jira an ITSM Tool?
Jira was designed originally as a ticketing tool for software development teams. For this purpose it is an excellent tool, however, this isn't a substitute for a dedicated ITSM tool, and so integration between the two can be useful.
How Much Do Managed IT Services Tools Cost?
As with most things in the business IT world, giving a ballpark cost for an ITSM tool is far from easy. Depending on the type of tool, hosting (on-premise vs. cloud vs. hybrid), and implementation (full vs. partial), the cost of an ITSM tool can range from nothing to almost infinite. However, to give you a brief overview, ITSM tools fall into three broad categories:
1) Cheap downloadable tools
These can be a good investment for very small organisations, particularly in the current climate. While these tools are very inexpensive — sometimes even free — there are naturally costs associated with implementation. Setting up a new tool can be very time consuming, but ultimately may be worthwhile for small organisations that have outgrown the capabilities of an ad hoc IT service, but which don't plan to expand further in the foreseeable future. However, these tools are not suitable for scaling, so many growing organisations choose to 'skip' this step in favour of a mid-tier ITSM tool.
2) Mid-tier ITSM tools
This is where more fumction-rich ITSM tools fall — including Sunrise ITSM — making it an extremely competitive tier. For all but the largest and most complex organisations, mid-tier ITSM tools are more than sufficient and are both easier to configure and use and far lower cost than top-tier tools.
Most ITSM tools in this tier can easily cover all aspects of the ITIL framework, and many include strong automation and user self-service capabilities. Importantly, mid-tier ITSM tools are much easier and faster to implement and configure than high-end tools.
3) High end ITSM tools
At the high end of the market, the top-tier ITSM tools can do anything an IT service could possibly need to do. However, they are extremely expensive, and often require hundreds of consultancy days to implement and configure. In many cases, these tools are sold through resellers that make their margin almost exclusively from this consultancy time. For obvious reasons, high end tools are only appropriate for the largest and most complex organisations.
Kickstart Your ITSM Journey with Sunrise
Implementing (or replacing) an ITSM tool can be daunting. There are dozens to choose from, and with 600+ (or even more) functionality points to consider, even researching the market can be overwhelming.
At Sunrise, we pride ourselves on providing the best customer experience available in the ITSM tool market. We'll help you understand your organisation's needs, how our ITSM tool can solve them, and get you up and running — and realising genuine business benefits — in record time.
But don't take our word for it. Hear it from some of our satisfied customers:
"Within two months of going live, we were able to use Sunrise's reporting capabilities to drill down and identify key trends that were impacting our first time fix rates, allowing us to make changes that improved it by 10%, up to 85%, well above the industry average."
— Gareth Humberstone, IT Services Manager, Womble Bond Dickinson
"What I love about Sunrise is that it is so customisable and easy to change – and that the team there wants us to do the best we can with the product."
— Steve Morris, ICT Technical Manager, North Wales Fire and Rescue Service
"We saw that Sunrise's employees are really enthusiastic about the company and hugely experienced. That made our decision very straightforward – Sunrise is just the right partner for us."
— Matt Wilsher, Head of IT Services, Bidfood
To find out how our team at Sunrise can help your organisation achieve its IT goals — or to request a quote — contact us.
About the author: David Bullivant is a Senior Business Consultant at Sunrise, working closely with public sector and commercial organisations to optimise their ITSM implementation and gain benefit.