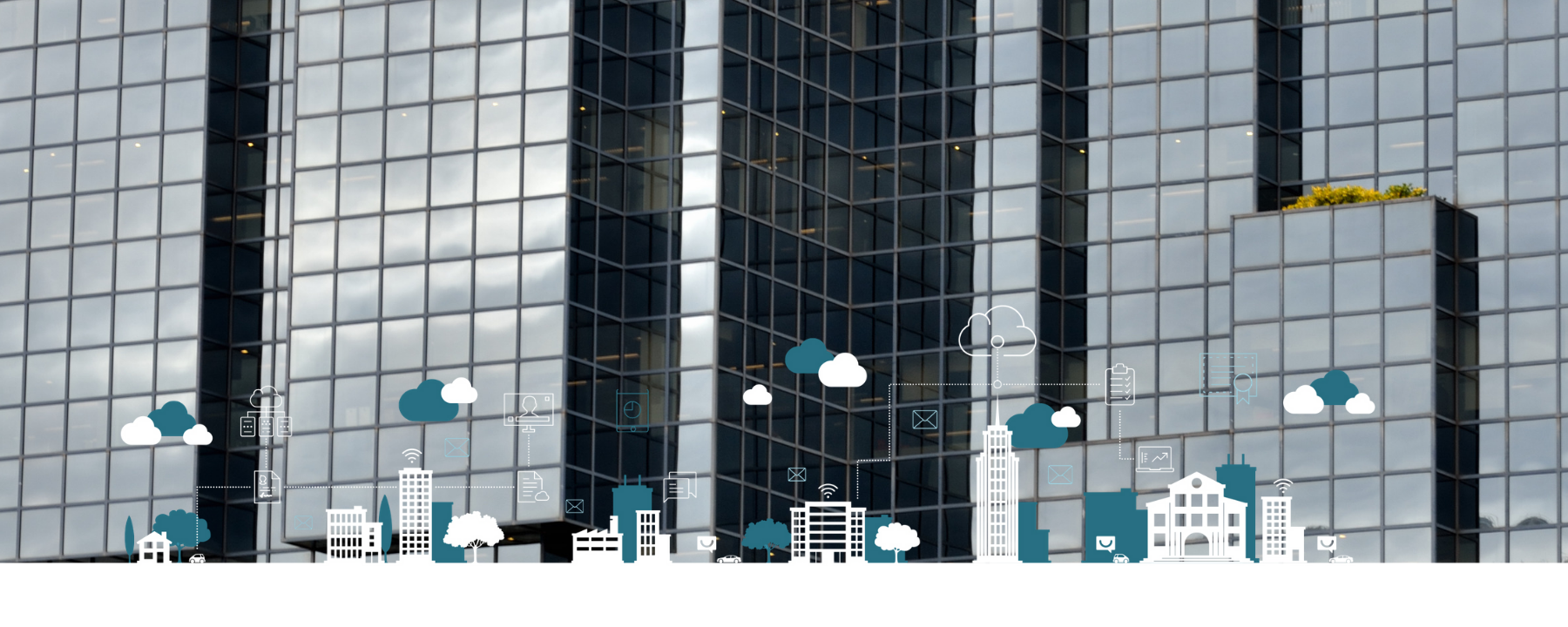 Reporting & Analytics for Service Providers
Knowledge is power – have the data you need, when you need it
Book A Demo
The Right Information, at the Right Time

Having access to the right information at exactly the right time you need it is vital in today's statistic driven world. We have all been in the position where a sudden demand for some essential piece of data has been thrust upon us, 5 minutes before that data is needed. So what do you do? Often it is just a quick grab what you can and hope that will be sufficient.
Then there is the situation where you don't know exactly what you need to report on, so you report on everything, and then no one then reads it because the important information is clouded by irrelevant and useless data.
At Sunrise we don't believe in reporting for reporting sake, but we do believe in having options. Sunrise Service Management includes a range of different reporting options which enable users to report on the statistics that really matter. Create reports on historical data, real-time statistics and tailor these so that only those who need to see it, do.
Dashboards
Securely highlight the important information the way you want it and gain quick access with a single click, using configurable dashboards and a library of gadgets that get you into the action fast.
1. What Does It Do?

Create Dashboards specific to a group's core roles and customise with layouts and gadgets appropriately

Key Performance Indicator (KPI) gadgets provide instant visualisation of the health of your Service Desk across all your processes.

Publish a summary of important information, such as service status, in summary or in detail

Create rich graphical charts showing performance levels and trends over time

Provide access to recently accessed records and commonly used functions such as "Add Incident"
2. Key User Benefits

Increased visibility into your Service Management operation

Improved staff productivity

Easy access to information you need
3. More Info

Having access to the important information your teams need to perform is a vital function of any Service Desk. Sunrise IT Service Management provides you with complete control over the display of your information through an unlimited number of completely configurable Dashboards. You can even create unique Dashboards specifically for individual teams.
Dashboards aren't merely a way of showing off your Service Desk performance. They're a great way of navigating with a single click to the most important information you need, exactly when you need it. With multiple Dashboards showing your owned Incidents, tasks due today and other important information such as announcements, you're never far from the information you need.
Dashboards are also ideal for presenting summarized information to your end-users via the Sunrise IT Service Management self-service portal. Providing clear and concise access to information and features, dashboards help improve usability, and employee adoption of the facilities that IT provide.
However you want to display your Dashboards, you'll find a layout and combination that suits both you and your team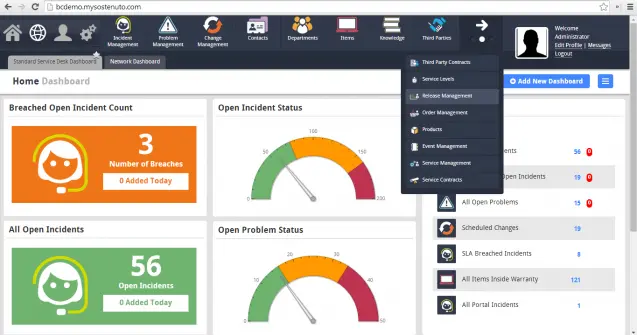 Wallboard
Never be lost for a stat again. Monitor your key performance indicators with a range of comparative visualisations and gain detailed operational insight across your service management disciplines.
1. What Does It Do?

Organisation-specific Service Desk metrics mean you only see what is important to you and ensure that sensitive information remains secure

Monitor single or multiple Sunrise Service Desk operational Key Performance Indicators (KPI) and benchmark them over time

Proactive management of resources based on up-to-the-minute utilisation information

Monitor performance in a single location, ensuring that decisions can be made more confidently and quickly

Consolidate information across multiple systems, databases and applications, into a single Dashboard
2. Key User Benefits

Show the true value of IT

Prompt and informed decision making

Increased visibility of Service Management key performance indicators
3. More Info

Busy Service Desks produce lots of data and it's easy to lose sight of what's important. You never know when you'll need that important statistic or piece of information. Never go hunting for stats again and gain a visual early warning of potential issues that require additional attention or escalation, with a Wallboard for Sunrise ITSM. Gain a complete overview of your Service Desk by visualising data with stunning charts. Monitor current versus historical performance, and check progress against targets that the Service Desk team can work towards together. You can even publish a Wallboard to management, or make it public by displaying your stats proudly on a wall for everyone to see.
By building comprehensive Wallboards that provide visual feedback to both users and managers, Sunrise Service Management lets you focus on the little things, while it monitors the rest.
With Sunrise IT Service Management you can proactively monitor agent workloads, identify service level trends, benchmark current performance against previous months and years, and monitor the perception of the quality of your service through customer surveys. Whatever statistics you need to survive, you can be sure that Sunrise IT Service Management contains the lot.
Read the Wallboard datasheet.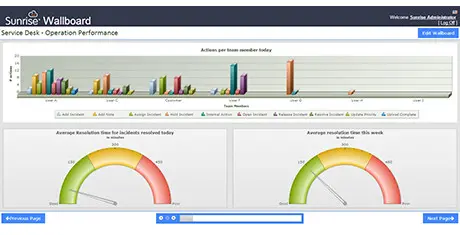 Management Reporting Suite
Gain valuable insight with immediate access to operational information, and key performance metrics or build your own and share commonly useful reports with others.
1. What Does It Do?

Monitor performance trends of your agents and teams over time

Graphically display information trended over a rolling 12 month period

Quickly create tabular, details and graphical reports using the integrated reporting features

Export your data quickly to external reporting tools
2. Key User Benefits

Clear visibility of trends over time

Improved decision making based on actionable data

Clarity over Service Management performance

Increased collaboration and information sharing
3. More Info

Supporting the business is the key role of IT today and keeping on top of your Service Desk's performance is a clear way of showing value to your business. Sunrise IT Service Management features hundreds of flexible, feature-rich, out-of-the-box report combinations. When combined with the ability to easily filter your data, and an integrated report builder, you really can get access to the data you need, exactly when you need it.
All reports are available in a variety of formats including tabular, details, and graphical, ensuring there's always a report for every occasion
With an integrated suite of reports your Service Desk statistics are visible immediately, displaying both past performance and future trends. Whatever your reporting needs, the options are almost endless.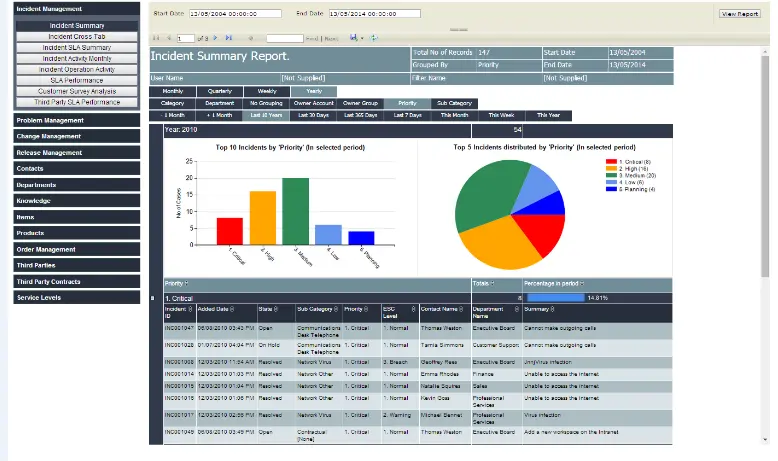 "We've been using Sunrise for nearly three years, without any failures, giving us reassurance and allowing us to focus on supporting the work of the council, its staff and councillors. We particularly like the ease of use, and the intuitive interface that we've been able to customise to meet our needs in every area."

"Sunrise has been transformational in how we are now working and the data that we are able to capture and use."

"We saw that Sunrise's employees are really enthusiastic about the company and hugely experienced. That made our decision very straightforward - Sunrise is just the right partner for us. Adopting the SaaS model means we don't have to worry about release cycles or server management either, as it's all managed by Sunrise."

"As with the entire NHS, we have a focus on efficiency, and Sunrise enables us to automate many of our processes, giving staff time to handle more complex, more challenging jobs where they can really add value."

"We have the ability to customise the platform for different areas of the university and have removed the need for a multitude of platforms from multiple providers."

"Flexibility, scalability, customisation and speed of implementation were paramount to us. Sunrise ITSM enabled us to improve and alter the way in which we logged and managed queries through to resolution, with a clean and simple user interface that staff could quickly and easily get to grips with."

"The relationship we have with Sunrise feels more like a partnership than a client / supplier dynamic. They have always responded to our feedback 100%, and gone out of their way to support us in our ISO/IEC 20000 undertaking."

"Thanks to Sunrise and ITIL we're confident that we can deliver the service our customers require and better understand and respond to their changing needs, in a more digitally-driven world. "

"For us Sunrise were the clear choice. The system has a broad range of features and functions and it was the most cost effective answer to our needs."
Good Reporting
Many of our customers have been able to take advantage of the reporting options through Sunrise Service Management, here are just a couple of examples of what the reporting options have been used for.


The Service Desk Institutes accreditation reports helped support Informatics Merseyside become the first NHS IT Service Desk to achieve 3-star certification.

Introduced reporting to track Service Level Agreements (SLAs) and to keep customers happy. They have now extended this to also report on pipeline for new business