Throughout the IT era, vendors have occasionally tried to do everything themselves. And failed. No IT vendor – regardless of its primary focus is a self-contained, company panacea.
Hence, the importance of a service management platform being able to integrate with best of breed 3rd part applications, in order to provide that complete solution – the old "best of all worlds" scenario. Modern API software technology makes continuous support of those 3rd party products, as they themselves change, relatively straightforward (unlike in the "old days"), but without tying the customer to those specific apps and platforms, should they wish to change.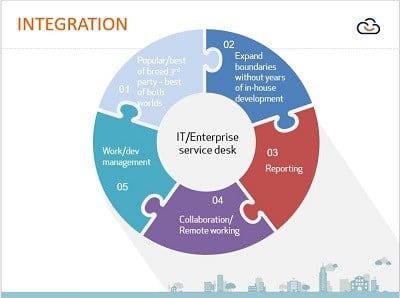 "Agile IT" is a phrase that has been severely overused in the past few years, but it is an absolute – in order to, firstly survive and, secondly, thrive in the current, extremely challenging environment, businesses do need to be operating optimally, be flexible and be ready to adapt to change. And this current landscape will continue to change. Given this perspective, where an optimised service management platform helps enormously is in streamlining and optimising all company operations and standardising those operations for both internal and external business requirements. This, in turn, makes change management easier, while providing a ready platform for expansion as, and when, the opportunities arise. But no single platform can realistically achieve this level of flexibility – hence the need to integrate.
Integration examples within Sunrise ITSM itself currently include Microsoft's Power BI for business analytics and reports, Teams for support of remote working/collaboration (with direct interaction between Sunrise and a Teams channel content) and tools such as Jira for work/development management, again with a synchronised, bidirectional feed between the two platforms. So, this isn't simply a case of paying lip service to supporting 3rd parties, but incorporating them into the 24×7 service management platform.
Looking at this integration in practice, Sunrise customer Community Integrated Care (CIC) – a national social care charity which provides care and support to thousands of people with a diverse range of needs across England and Scotland – has seen benefit from the alignment of Microsoft's Power BI reporting with the service desk operational data. As the COVID-19 pandemic unfolded and with care homes in total lockdown, unforeseen challenges emerged in terms of not only hardware but also infrastructure support requirements – "implementing two years' worth of changes in six months". CIC's integration of Sunrise with Power BI provided both detailed IT team management and Departmental and Board level views on IT performance.
The benefits of the integration were summed up: "Covid-19 forced a huge step-change with pressure growing for IT to deliver almost overnight, and users' expectations of technology increasing enormously. The need to manage IT services centrally was demonstrated more than ever and so the business's requirement for Sunrise data and the insight provided by Power BI has proven of immense value."
Steve Broadhead is a technology journalist, technical researcher & author, guitarist and occasional comedy writer, who brings his unique perspective to the world of ITSM through 30+ years' association with the IT industry.
Watch the webinar recording of The Integrated Service Desk – extending boundaries adds value