When is ITSM automation of benefit?
Wherever completing intensive, repetitive tasks is the norm – manual processes place a huge burden on IT service desks. These manual steps hinder efficiency, consume large tranches of time unnecessarily, and allow for errors to creep in, risking unwanted outcomes and time wasted in which they must be identified, reported, and fixed.
According to research, the average IT department spends an incredible 30% of its time on basic, low-level tasks (1).
So it's no wonder that the Service Desk Institute's 2019 'A View from the Frontline'(2) report found that
75% of service desks had automation at the top of their priority list
43% of service desks wanted to see improvements in their ITSM tool's automation capabilities
What is ITSM Automation?
Very simply, ITSM automation is the ability for administrators to build processes that can be partially or entirely completed without human input. These processes may be initiated by a staff member, but could also be self-starting triggered by actions from non-IT departments or even end-users when specific criteria are met.
.As a very simple example, consider the process of onboarding a new employee. Once a request is made by a hiring manager, many of the following tasks can be partially or completely automated. For example, an ITSM tool could:
Send a request confirmation to the hiring manager
Create new tasks in the ITSM tool and assign them to relevant teams
Send email notifications to any teams that need to complete manual actions
Create a user account for the new starter and set up permissions
Order a keycard for the new starter
Order and allocate new devices like smartphones, PCs, and laptops
Enable an Office 365 license
Document the process from start to finish
And this is just one simple example.
8 Benefits of ITSM Automation
Automating the standard responses for routine IT requests can have a huge positive impact on service desk teams, as well as the wider organisation. Here are some of the top benefits:
1) Time savings for service desk teams
As we've already seen, the average service desk spends nearly a third of its time on repetitive, mundane tasks. Just think of all the higher-value tasks service desk teams could focus on if they weren't spending so much time on the basics or on mopping up process errors or omissions.
Some of the top time-saving capabilities of automation include:
Automatic updating and escalation of tickets
Automated reminders for tickets that fall outside SLAs
Ensuring the full and correct process is followed every time with automated prompts
2) Reduce errors from manual processing
Let's be honest, people make mistakes — especially when they have to perform the same manual tasks over and over. Machines, on the other hand, don't make mistakes.
When tickets are automatically updated on completion of each task, and automatic reminders are set up for tasks left undone, service desks can see a huge reduction in errors and oversights. And when automation is taken to the next level — i.e., the actual tasks are completed without human intervention — the error rate falls even further.
3) Better customer experience
This is really a function of points #1 and #2, but it's important to keep in mind.
When tasks are performed faster and with fewer errors, the customer experience provided both internal and external to the organisation is naturally much better. And when you apply these benefits to tasks that are performed hundreds or even thousands of times each year, that improved customer experience translates to an organisation that runs much more smoothly.
4) Formalise processes
Sometimes it just helps to get things written down, removing the dependence on a few people 'in the know', so if they aren't around, things still happen.
5) Cost savings
ITSM automation can save organisations money in two simple ways:
Fewer staff members are needed to keep the IT service desk running at full capacity.
Fewer staff hours are needed to identify and resolve errors.
6) Easier to make process changes
Process change is never easy. And when it involves having to retrain entire teams, it can be a nightmare.
For obvious reasons, fully-automated processes are much easier to change than those that involve people. Once the process has been updated, it will run perfectly every time.
But even semi-automated processes can make process change easier by effectively 'coaching' staff through the new process. Automatic task creation, allocation, and reminders help staff adapt to new processes more quickly, and help to ensure that all tasks are completed in the correct order.
7) Assist non-IT departments
Automation may be partly self-serving for the IT department, but when processes are put in place using the workflow capability of the ITSM tool, there are obvious benefits to non IT departments too. HR, Finance and Facilities may not be fully aware of the time savings and other benefits that stem from automation, so would never think to ask. If IT takes the lead, it can help deliver efficiency to these other departments while also benefitting from streamlined processes and certainty – win-win!
8) Invisible helping hand
Create the process once, set it live and it's just there, doing its work quietly behind the scenes. You can just forget it's there until you need to review anything, then just go into the workflow GUI and easily make minor adjustments.
ITSM Automation Example
Any IT process that includes manual steps can benefit from automation. One of the most common processes that can be automated using an ITSM tool like Sunrise is:
Staff Members Leaving (Including the 'Right to be Forgotten')
When someone is due to leave the organisation, a number of tasks need to be completed by various departments Generally, a member of the HR team will log into a self-service portal and enter the leave request along with all of the relevant details.
But what happens next? In the past, IT teams had to manually set a reminder for the user's leaving date, and then manually complete each of the associated tasks promptly once the user had left. Using automation, the process is far simpler:
Tasks are automatically created and assigned to the relevant teams.
Prompts are sent automatically to each team once the user has left.
Account access and keycards can be disabled automatically at a specific time.
Reminders are sent automatically for any tasks left incomplete, e.g., reclaiming Office 365 licences.
In this case, the automated processes and reminders drastically reduce the chance that important tasks will be delayed or missed. This is particularly important now that the GDPR is in full effect, as employees have the 'right to be forgotten', so forgetting to delete personal information could leave the organisation open to fines for non-compliance.
To see how this process (and others) can quickly and easily be set up in Sunrise ITSM, check out our latest series of video use cases with examples of New Starter and Ordering a new device.
Building Automation with the Graphical Process Builder
When most people hear the word 'automation', they assume a level of complexity.
"Sounds great," They think. "But it must take a technical wizard to set it all up."
Nothing could be further from the truth. In fact, Sunrise ITSM makes building automated processes so fast and easy that anybody can do it in just a few minutes.
Processes are built using the Graphical Process Builder (it's just like building a flow chart) and can even be set up to start automatically when an event occurs, e.g., a new user is hired, or a self-service request is placed.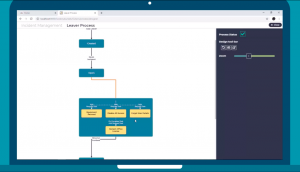 To see how you can start building automated processes straight away, watch our Introduction to the Graphical Process Builder video.
The Sky's the Limit
Which areas of ITSM can benefit from automation? If it has a repeated set of actions and an outcome the answer is yes, automation can help. In this article, we've looked at the basic capabilities of automation in ITSM and some examples, and how they can help service desk teams save a huge amount of time while improving outcomes and reducing errors.
And here's the thing: ITSM automation can potentially do much more. Almost any repetitive task — from rebuilding virtual machines and resetting passwords to installing or uninstalling applications — could potentially be completely automated.
With that said, it's essential that you get the basics right first. Automation of tickets, tasks and simple processes within your ITSM tool has a huge potential ROI and will help lay the foundation for further automation down the line.
And once you have that foundation, the sky's the limit.
To find out more watch, the Sunrise automation videos for common Use Cases.
Contact Us to discuss how automation can help your service strategy.

1. 2017 Automation survey http://www.pavantestingtools.com/2017/10/robotic-process-automation-statistics.html
2. Service Desk Institute's 2019 'A View from the Frontline' survey was sponsored by Sunrise.